Biography of Beverly Thompson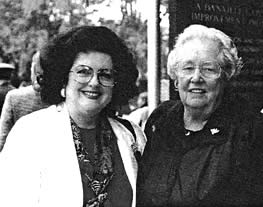 Beverly and Jamie
Beverly Thompson is the author of "The Colonel is a Lady" which is a real life story about an action figure Army nurse Lt. Colonel Evangeline "Jamie" Jamison. When Beverly met Jamie she was so moved by her incredible story of her life she was compelled to write a book about her. This is Beverly's first book. Aside from promoting her book she is writing two other books, one is about her husband who was one of the first Top Gun Navy fighter pilots, and also a memoir of her own life in Japan. She also works to promote patriotic projects through her DAR - Daughters of the American Revolution group.
Beverly is a woman with first hand experience on the wards of an army hospital in Japan during the Vietnam War as a Red Cross volunteer. She spent many hours with the worst wounded soldiers who were sent to this hospital from the Evacuation Hospitals like Evangeline's 93rd Evac Hospital in Vietnam during that war. Patriotism and honor are of utmost importance to Beverly. She brings to the public a compassionate and heartwarming story about a Lieutenant Colonel Army nurse who is in a class with Amelia Earhart.She was in three wars and was the driving force behind the foundation of the Vietnam Women's Memorial in Washington, D.C.

Beverly's knowledge of Japan and the Philippines is from real life. She lived in the Philippines and in Japan and became a part of that community.

She was a proofreader for a large newspaper, reading copy for four different "in-house" newspapers for many years and typed live broadcast news on television. She was Vice President of many art groups and Naval Officer's wife's groups. She was a Naval Officer's wife most of her life and was the founder of a writers group in San Francisco, California.
Aside from being a writer she is an award winning Illustrator/artist who has worked with many large corporations. Beverly received her degree in Illustration from California College of Arts and Crafts in California. She attended Chouinard Art Institute of Walt Disney fame. She has exhibited her paintings in Carmel California, and is currently exhibiting in Texas. Her vivid brushstrokes have turned into words and the higher calling of writing an impassioned story about the life of this incredible hero who was in three wars, and also the driving force behind the Vietnam Women's Memorial in Washington, D.C. so that her story will not be forgotten.
Beverly brings the Vietnam War "up front and center". She knows the Military ways, and what went on in the hospitals of that era. This is an authentic story. The character building events that formed Jamie's life are woven into the fabric of her life and the uniform that she wore and the service to her country are evidently clear.